UTMB PA Students Presented with Award at the Capitol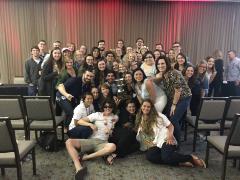 UTMB Physician Assistant students were recently presented with the Texas Academy of Physician Assistants PA Day at the Capitol Award for best student participation at the March 2015 Legislative Day at the 41st TAPA Spring CME Conference in Houston.
More than 50 UTMB Physician Assistant students traveled to Austin last year to meet with legislators regarding Physician Assistant bills and issues, and to learn more about the legislative process. This is the first time the award has been presented. UTMB will hold the award for the next two years.
Source: UTMB Impact