Living the dream: SHP graduate overcomes hardships to pursue career in health care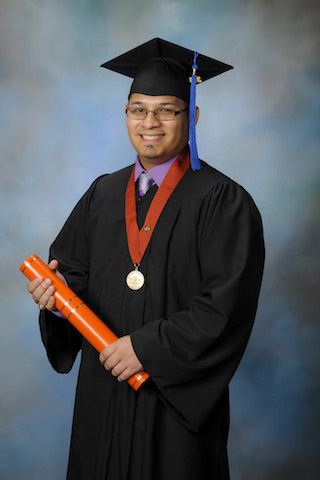 Becoming a health care professional has always been a dream for Robert Guedea.
But when he received a bachelor's degree in respiratory care at the School of Health Professions graduation ceremony on Aug. 12, it became a reality - one he previously thought was beyond reach.
"Growing up was far from easy - I never had a stable home," said 26-year-old Guedea. "I didn't live with family; I lived with friends. School was the only place I wanted to be. It got my mind off of everything else."
One of nine children, Guedea wanted to set an example for his siblings. With school being the only constant in his life, he worked hard, attending summer school and eventually going to community college. Being accepted into UTMB's respiratory care program was the beginning of a challenging, but amazing experience.
"It's a rigorous program, but the professors helped me adjust to the change from community college," said Guedea. "When I first started, the program director was tough, but I realized he was pushing me because he saw my potential and wanted me to succeed. And the interprofessional collaboration has been great - I now have friends in clinical science, nursing and medical school. It's been an ambitious two years, but it's doable and I'm a better person for it."
José Rojas, PhD, associate professor and chair of SHP's Department of Respiratory Care, said UTMB is proud to call Guedea an alumnus. "He has the drive, demeanor and empathy to make him a successful respiratory therapist."
And when Guedea walked across the stage at Moody Gardens with 342 fellow graduates, he became the first of his siblings to earn a college degree.
"My younger sister told me that I inspired her," said Guedea. "And I said, 'Why?' She said, 'I know where we come from. For you to actually go to college—it wasn't just talk.' It was an amazing moment. I want my four younger siblings to know that no matter the hardships a person goes through, it will not define the rest of their lives."
Stories like Guedea's - overcoming hardships and succeeding in the face of adversity - are not unusual for students in the SHP.
"Robert exemplifies what a lot of our students do for their education," said SHP Dean Dr. Elizabeth Protas. "It's one of the reasons we work so hard to come up with scholarship support for them. They have a serious commitment to their education and are very focused on careers in health care that will really make a difference."
She points to the fact that 2015 graduates from three of SHP's programs had 100 percent pass rates for their certification exams, which is above the national average.
"It's just enormous," said Protas. "It's a real tribute to our faculty and students. If students weren't dedicated to their learning and faculty members weren't committed to teaching, that kind of result would never happen. It's a true partnership and it's fabulous."
With a degree in hand and a thirst for knowledge, Guedea now has his sights set on another dream: to become a surgeon. And this time, he knows it's within his reach. He plans on applying for medical school at UTMB and hopes to start classes in 2018.
About SHP:
As the first school of its kind in the Southwestern states when it opened its doors in 1968, SHP has granted degrees and certificates to more than 11,000 graduates in vital areas such as health information administration, clinical laboratory sciences, health care administration, occupational and physical therapy, respiratory care, nutrition and metabolism, and physician assistant studies. The school also offers innovative online programs for health care professionals looking to further their education and advance their careers. For more information, visit https://shp.utmb.edu.
Source: UTMB Impact